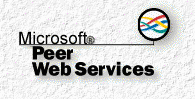 Microsoft Peer Web Services
Microsoft provides a Windows 95/98 and Windows 2000 version of its Internet Information Server (Web Server) as IIS in Windows 2000 and Personal Web Server in Windows 95/98 -- PWS. The basic Web Server software is the same, but with limitations related to the type of operating system.

---
PWS Installation
The installation in Windows 98 is quite simple:
insert the Windows 98 CD-ROM in the drive x: (whatever is the letter in your machine) and
type in a DOS shell, or Start, Run window:

x:\add-ons\pws\setup.exe
The installation in Windows 2000 is also simple:
open Control Panel
select Add/Remove Programs applet
then Add/Remove Windows Components
in the components list check IIS and click next to install the IIS Services (be careful, SMTP and FTP will also be installed)
insert the Win 2000 CDROM in the drive when asked
Your installation is complete and you can now configure and create content to your site.
PWS Setup and Configuration
The installation in Windows 2000 places the server files in the WINNT\System32\inetsrv directory, while in Windows 98 the server files are placed in the Windows\System\inetsrv directory. It also creates an InetPub directory in a location of your choice, e.g. C:\InetPub. A series of directories are created in InetPub: ftproot (the base address to the FTP server), wwroot (the server document root), scripts, etc. You will place your html files in the wwwroot directory.

You manage the Web Server using:
the Internet Services Manager and Personal Web Manager Applets in Windows 2000, and the Personal Web Manager in Windows 98.

The Internet Services Manager is accessed from the Administrative Tools in Control Panel. You can start and stop all internet services from this console. In the Windows 2000 many other services can be managed from the Internet Services Manager, as shown here.

In Windows 98 the installation places an icon on the desktop -- Publish, which allows content management of your Web site. This is the Personal Web Manager. In Windows 2000 the Personal Web Manager is found in the Administrative Tools of Control Panel. You can start and stop access to your site from here. You can also use a HTML publisher wizard to create pages.
Here is a technical note on how to run Perl scripts in IIS or PWS.

The detailed configuration and security management of PWS can not be covered in this tutorial. For a good FAQ on PWS and IIS go here. If you want to know more about it I suggest reading Administering IIS6 by Mitch Tullock.
---
This page is maintained by Al Bento who can be reached at abento@ubalt.edu. This page was last updated on November 15, 2004. Although we will attempt to keep this information accurate, we can not guarantee the accuracy of the information provided.