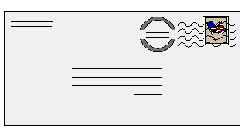 E-Mail Packages
There are a variety of e-mail packages available for you to choose from. Most of them will let you do all you need, like create folders, set filters, keep copies of messages you sent, create distribution lists, etc.

---
What you can do at UB

We have seen previously the advantage of using an IMAP server like ubmail.ubalt.edu: you can access your messages on-campus and off-campus. The messages are maintained in the server and you can create folders at the server to organize your messages.
In addition you can access your messages from a browser in any computer using WebMail (if you got a new e-mail account at UBMail use WebMail to activate your account).
You can also set Server filters (the messages will not arrive at your mailbox), instead of e-mail packages (client) filters. In order to do so go to the UBMail Web page and select E-Mail Filters, Change my discard filters (you will be asked your UBMail username and password). Copy the specific or generic (ISP, or organization) e-mail address(es) to be automatically rdiscarded before it comes to your mailbox.
The UBMail system automatically removes suspicious attachments using Windows sensitive extensions, generally used to transmit viruses, saving you from many malicious attacks. In addition, in our internal mailing lists all attachments which are not text are also automatically NOT distributed.
You can maintain your account using the Web interface we discuss above, but you can also telnet to ubmail.ubalt.edu and do the maitenance at the command prompt as show in this tutorial.

E-Mail Clients

We will limit the review of e-mail clients to PC-Pine, Pegasus Mail, Netscape Mail, and Internet Explorer mail (upt to IE 4.0). We will nor see Outlook Express (OE) here since most PCs come with Windows and OE installed. A word of caution: given its large usage and well known vulnerabilities, many viruses are targeted to attack OE. I strongly suggest you add the latest patches and follow basic security principles regarding running macros in OE (see Microsoft OE FAQ), particularly if you also use Microsoft Word.

PC-Pine: uses a DOS like interface, but allows you to see more about message headers, etc. See my tutorial and FAQ on PC-Pine. Please note that if you telnet to UBMail you can use Pine there by just typing Pine at the command prompt.

Pegasus Mail: uses a graphical interface and is a powerful e-mail client. See my tutorial on Pegasus Mail.

Netscape and IE Mail: Netscape continues to provide an integrated Mail program, like Internet Explorer did up to version 4. In this tutorial I discuss how you set Netscape and IE (up to 4) mail and also how to send attachments with your messages.
---
This page is maintained by Al Bento who can be reached at abento@ubmail.ubalt.edu. This page was last updated on August 26, 2001. Although we will attempt to keep this information accurate, we can not guarantee the accuracy of the information provided.